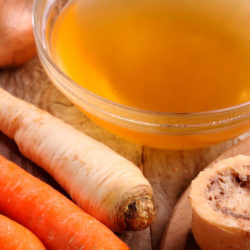 Bone Broth
Bone broth has been used as a healing food for centuries. It has made a comeback in recent years and I always recommend it to my patients as it has amazing health benefits. What's more, it is very easy to make and keeps well in the freezer.
What is bone broth?
It's highly nutritious stock made by boiling bones together with vegetables and herbs. The bones are simmered for 24 to 48 hours to extract many valuable nutrients. These include:
• Glycine and proline, two amino acids which are essential for connective tissue formation. They help to build lean muscle, repair joints and ligaments, boost mental performance, protect the skin from signs of ageing, lower inflammation, boost energy, and even reduce cellulite.
• Glutamine and gelatin which heal leaky gut, ie gaps in the gut lining which can give rise to food intolerances and digestive symptoms such as bloating.
• Collagen which protects joins and helps prevent joint pain.
• Minerals including calcium, magnesium, phosphorus and silicon, all of which replenish the body.
• Chondroitin and glucosamine which reduce inflammation and combat arthritis and joint pain.
Ingredients
1

Marrow Bone

Ask your butcher to cut long ways and then in half

1

large

Onion

Chopped

1/2

cup

Apple Cider Vinegar

2

tsp

Salt

1

tsp

Pepper

2-3

Carrots

4

stalks

Celery

3

cloves

Garlic

Filtered water
Instructions
In the slow cooker, add all the ingredients and enough water to cover everything. Cook for 8-10 hours.

If you are using the stove, bring to boil, cover and simmer on a low heat for 2.5-3 hours.
---